Sri Lankan Airlines appoints its first Lady Captain
SriLankan recently marked a significant milestone in the country's aviation history when Captain Anusha Siriratne was appointed as the National Carrier's first Lady Captain.
Manoj Gunawardena, the airline's CEO, said: "Our heartiest congratulations to Capt. Anusha Siriratne. This is a significant event for the National Carrier. Sri Lanka has been in the forefront of women's empowerment and it is certainly high time that a Sri Lankan woman took command of an airliner."
Interestingly, Capt. Anusha and her husband Capt. Hemantha Siriratne also made history as the first husband-wife pilot duo in the country. Capt. Hemantha received his Captain's appointment earlier this year.
Captain Anusha is modest about her appointment and brushed off her achievement, which had been her childhood ambition.
Odel unveils latest in French fashion.
fibre2fashion.com October 27, 2008: Anyone interested in knowing what the chic young women of France are wearing these days need go no further than Odel at Alexandra Place,
the Colombo 7 flagship edifice of Sri Lanka's iconic department store.
A selected pick of the latest summer, autumn and winter collections of French high street fashion brand Morgan de Toi now adorns an entire wall of the Ladies Department of Odel, providing the young fashionistas of Sri Lanka a choice of light, fun and flirty designs from the world's fashion capital.
Sri Lanka poised to become a global hot spot for whale watching.
Sri Lanka has the potential to become one of the global hot spots for whale watching as it is among the easiest places in the world to watch blue and sperm whales according to researchers, marine biologists and eco-tourism specialists.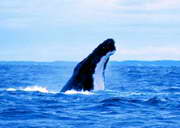 Whale and dolphin watching is a seasonal activity in Sri Lanka, available on the west coast in locations from Kalpitiya and along the South West Coast from November to March while the east coast off Trincomalee is preferable from June to September.
'The Whale and Dolphin Conservation Society estimates that ten million people go whale watching every year,' said Heba AL Ghais AL Mansoori, Middle East Director of Sri Lanka Tourism Promotion Bureau.